Canton POS


Summer Art Camp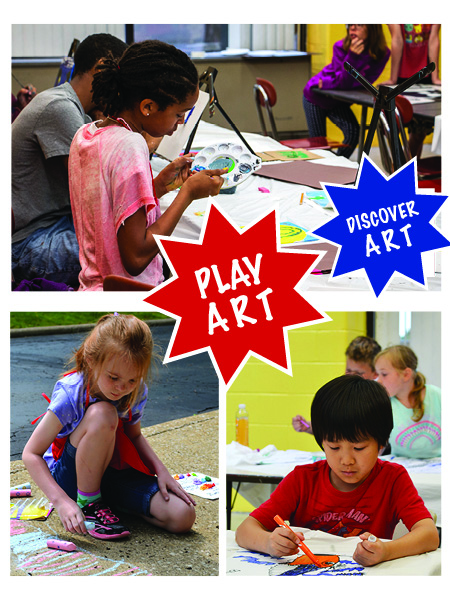 Now offering in person summer camps with new changes for your student's safety for 2021

Play, imagine, discover, create, and participate in a weeklong arts adventure!
In-Person Camps Begin the Weeks of June 21, June 28, and July 12
CMA is offering the in-person camps following  recommended health and safety guidelines to ensure a fun and creative, yet safe, environment and experience.

SIGN UP FOR OUR CLASS E-NEWSLETTER TO STAY INFORMED WHEN NEW CAMPS ARE ANNOUNCED!
---
Come explore your creative side! Campers will have the opportunity to participate in educational and exciting hands-on art activities in the museum's classrooms and galleries. Tuition includes all materials in order to create their own masterpieces. All themed sessions are taught by professional artists or licensed art educators!

CMA Summer Camp is for students ages 6-14. The Camp will be divided by the amount of students registered and age groups (usually ranging from ages 6-10, 11-14).

Each camp runs for 5 days. Students registering for a "Full Day" are required to pack a lunch every day to eat during the supervised break, with social distancing outside or inside. Small bags are allowed for lunches and other necessary items. 
New Health & Safety Guidelines
There are many changes we will be implementing based on current health and safety guidelines for camps. The Museum is following guidelines from the Ohio Governor's Office and Ohio Department of Health (Responsible RestartOhio Museum Sector Reopen Guidelines), CDC, the American Alliance of Museums, and best practices set forth by museum directors across the state and country amid COVID-19. Some of the changes we will be making include:
All CMA staff members and Campers will be required to wear a face mask. Single use masks are available at the Museum.

Decreased camp size to only 10 students per instructor.

Spaced out, 6 ft. individual seating and kid friendly social distancing training for campers.

Art materials and tool kits made for each individual student to prevent cross contamination whenever possible.

Increased cleaning schedules and hand washing procedures throughout the day. 

Classrooms will be deep cleaned after each use.

Review further guidelines from the Ohio Department of Health – Consumer, Retail, Services, and Entertainment and OH – Day Camps.
In Person Camps: Click for session descriptions below
*Please note, remaining seats showing on website may not be accurate
Session 1A (Morning) Studio Arts Academy, 2-D Media: June 21 – June 25, 10:30 – 12:30

- SOLD OUT

Session 1B (Afternoon) Studio Arts Academy, 3-D Media: June 21 – June 25, 1:30 – 3:30

 - A FEW SEATS LEFT!

Session 1A & 1B (All Day): June 21 – June 25, 10:30 – 3:30

 - SOLD OUT


 
Session 2A (Morning) Drawing 101: June 28 – July 2, 10:30 – 12:30

 - SOLD OUT

Session 2B (Afternoon) Anime and Manga Character Illustration: June 28 – July 2, 1:30 – 3:30

 - SOLD OUT

Session 2A & 2B (All Day): June 28 – July 2, 10:30 – 3:30

 - SOLD OUT


 
Session 3A (Morning) Planes, Trains, and Automobiles: STEAM  Edition: July 12 – July 16, 10:30 – 12:30
Session 3B (Afternoon) Creative Clay: July 12 – July 16, 1:30 – 3:30

 - SOLD OUT

Session 3A & 3B (All Day): July 12 – July 16, 10:30 – 3:30

 - SOLD OUT
IN PERSON CAMP REGISTRATION
Cost per Session = $141 (Cost for Members: $113) (Morning OR Afternoon)
Sign up for a Full Day and save:
Cost for a Morning AND Afternoon session = $263 (Cost for Members: $210)
 
---
Families should not be discouraged from applying due to tuition costs. Scholarships are made available through support from The Hoover Foundation for CMA Summer Art Camps.
For more information and how to apply: Summer Camp Scholarship Application
---