Canton POS

Christkindl Markt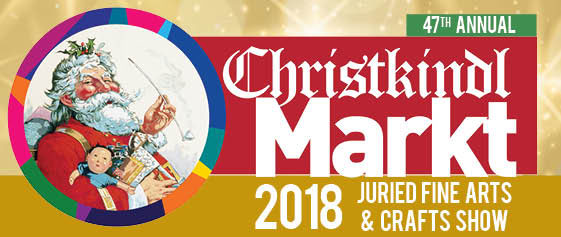 A Canton Holiday Tradition... The 47th Annual Christkindl Markt! November 9, 10 & 11, 2018

Tickets available at door: $7
Children 12 and under - Free Admission
Free Parking  -  Security-Patrolled Parking Deck & Surrounding Lots
Christkindl Markt, a cherished Canton holiday tradition, celebrates its 47th  year, November 9, 10 and 11. Presented by Canton Fine Arts Associates, an affiliate group of the Canton Museum of Art, Christkindl Markt is Northeast Ohio's premier juried, holiday-inspired fine arts and fine crafts show which attracts visitors from across the state.
Christkindl Markt features artisans from across the United States, showcasing their works throughout the Cultural Center for the Arts and the Museum. Visitors will discover the highest quality creations in glass, painting, ceramics, photography, jewelry, textiles, floral arrangements, woodworks, holiday items and more.
In addition to the inspiring artwork, Christkindl Markt includes the Christkindl Café and Markt Bistro, offering delicious snacks, lunch and dinner fare on-site. Visitors will also find an array of candies in the Sweet Shoppe, (including Buckeyes, fudge, bark, holiday cookies and more). A used book sale, a shopping spree raffle and silent auction are also popular Markt attractions.

 
Proceeds from Christkindl Markt benefit exhibition and education programming of the Canton Museum of Art!
2018 Christkindl Markt
Cultural Center for the Arts / Canton Museum of Art
1001 Market Avenue North, Canton, Ohio, 44702

November 9:   10:00 am – 6:00 pm
November 10:   10:00 am – 6:00 pm
November 11:   11:00 am – 4:00 pm