Canton POS

FIRST FRIDAYS AT THE CMA

JANUARY 7th, 2022 -
Make CMA a stop on your January's First Friday adventure and enjoy FREE admission and extended hours from 10am-8pm.  
Explore our Winter Exhibitions, shop local, hand-made goods in our Artisan Boutique and check out our custom ice sculpture (hint: it will be Marvel superhero themed) from 5pm-10pm - LIVE ice carving from 5pm-6:30pm.
About our Ice Sculptor (pictured below):
I'm John Dreslinski and I graduated from the University of Akron.  I started learning how to carve ice at the University of Akron from Chef Alford. He put me on the University's ice carving team and the the rest is history. This will be my 10th season ice carving. Pictured below is me winning a bronze medal at Medina ice festival.  See you all on Friday!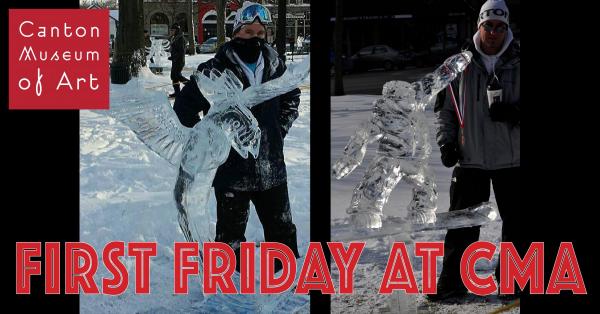 FEBRUARY 4th, 2022 -
Kick-off to The ArtChemist Project - check back for more information!
MARCH 4th, 2022 -
Last Friday to view our Winter Exhibitions - check back for more information!