Canton POS

02/05/2019 News: Canton Museum of Art Installing New "State of the Art" Storage Systems with Support from Local Foundations
New Major Art Storage System Being Installed at Museum . . .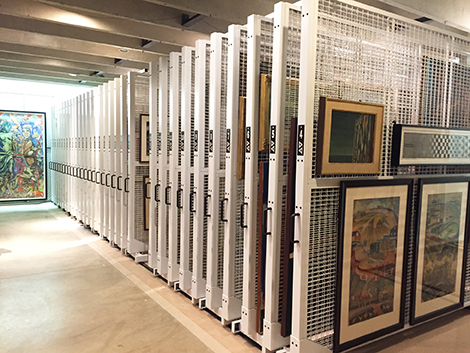 While the Canton Museum of Art (CMA) is currently showcasing more than 200 major works from its Collection in the exhibition In The Parisian Salon, featuring artists such as John Singer Sargent, Winslow Homer, and Edward Hopper, something even more spectacular is occurring behind the scenes. To ensure these and other works are preserved and protected for all to enjoy for years to come, CMA is renovating its collection storage areas to install new floor-mounted art storage racks. This new system will provide heightened protection to some of the Museum's largest and most important works, while increasing storage capacity and allowing greater ease of movement and safety for curatorial staff when handling the art.

Work started in January on this vital, nearly $300,000 capital project, which is generously supported in our community by:
•  The Timken Foundation;
• Stark Community Foundation, including: The John S. and Jodine S. Duerr
   Community Fund, The Fernandez Hillibish History Fund, The Brott Foundation,
   The William J. Lemmon Charitable Fund, The James K. and Carol Luntz
   Charitable Fund, and The Community Charitable Fund;
• The Hoover Foundation; and
• The William and Minnette Goldsmith Foundation.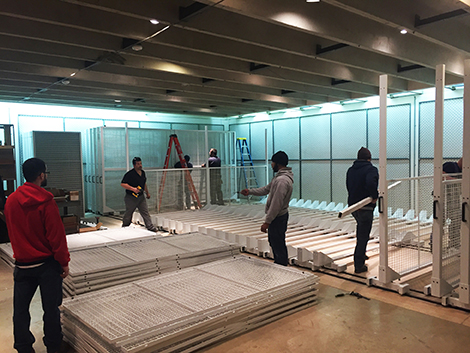 "We thank the amazing foundations in our community for their generosity and their commitment to preserve and protect the beautiful works of art in CMA collection," said Max Barton, executive director and CEO of the Canton Museum of Art. CMA also invested in the project.

"This project has been in the planning stages for over a year and will remove racks nearly 50-years old and replace them with a new, larger system that will ensure the safety of both the art and our curatorial staff and art handlers," he said. "The Museum's collection is our most important asset, and these works of art are not only part of the Museum, but also part of our city and cultural heritage. Their direct care is a principle in our Code of Ethics from the American Alliance of Museums, and paramount in our commitment of strengthening and sharing the collection and its stories with the community, students, tourists, and all participants."

Collection care is arguably the single-most important undertaking for museums both large and small. As collections continue to grow, efficient storage space and optimum convenience and control are primary needs in today's preservation strategies. CMA chose the Cleveland office of Patterson Pope, a nationally-known storage solutions provider, and worked with its museum specialists to custom design the new storage system based on size, shape, and weight of the objects; access and retrieval frequency; existing architectural constraints; security protocols; and room for future expansion.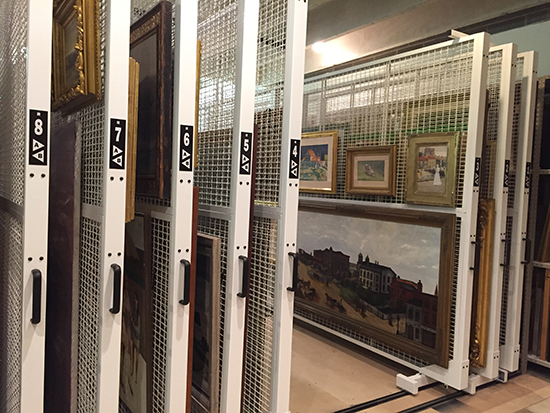 CMA selected a Spacesaver® floor mounted mobile art rack system to replace the old floor- and ceiling-mounted steel racks that were in place when the Museum (then the Canton Art Institute) moved to the new Cultural Center for the Arts in the fall of 1970. The Spacesaver rack system features double-sided mesh screens that are flush to the art rack frame, offering greater capacity than traditional art racks for two-dimensional art. The artwork hanging arrangement is limitless when space is not in an existing storage area; mobile art rack systems can store the same number of items as conventional pull-out art racks in almost half the floor space, increasing capacity for growth. Steel construction and powder-coat painted panels provide sturdy performance and roller guide-bearing wheel assemblies provide ease of movement. 

For more than 40 years, Spacesaver products have been trusted to provide museum storage at large and small institutions like The Kentucky Derby Museum, the World of Coca-Cola Museum, the Cincinnati Art Museum, Chicago's Field Museum, the Pro Football Hall of Fame, and more.

Installation of the new racks is expected to be completed in mid-February and artworks returned to storage. During that process, CMA will complete a new condition and inventory assessment on each piece, as well as update its online database and art location files, a process that will take several months.

"This storage system really enhances our preservation capabilities, as well as our ability to grow the collection," said Barton. "Strategic purchases and gifts for the collection rely heavily on a state of the art storage system. Especially for collectors making a gift, they want to know their work is going to be safe and well cared for over the years."
About the CMA Collection
The focus of CMA's Collection is American works on paper from the 19th century forward, with an emphasis on watercolors, and American ceramics from the 1950s through today. With more than 1,500 pieces valued at between $35 and $40 million, the Museum's Collection ranks as one of the finest in Ohio.

The Collection includes American masters of watercolor such as Andrew Wyeth, Edward Hopper, Winslow Homer, John Singer Sargent, Childe Hassam, and Charles Burchfield, in addition to important oils, prints, drawings, and other works by Andy Warhol, Clyde Singer, M.C. Escher, Julian Stanczak, Roy Lichtenstein, and Thomas Hart Benton among others. Periods represented range from Impressionism and Realism to American Regionalism, Abstract Expressionism, Contemporary, and more.

Artists such as Viktor Schreckengost, Toshiko Takaezu, Peter Voulkos, and Viola Frey are just a few of the important figures in the Museum's ceramic holdings.
About the Canton Museum of Art
The Canton Museum of Art is one of Ohio's premier museums for an exceptional visual arts experience, recognized for powerful original exhibitions and national touring exhibitions focused on American art. The Museum's innovative education outreach programs, classes, and workshops serve thousands of students of all ages. CMA's collection focuses on American works on paper, primarily watercolors, and contemporary ceramics. Founded in 1935, the Canton Museum of Art makes the discovery and exploration of art accessible to all. CMA is one of three museums in Stark County accredited by the American Alliance of Museums and serves nearly 45,000 visitors each year. Visit cantonart.org to learn more.
# # #